Tara-Lynne Pixley /
Creative Loafing
An engagement, two honeymoons, a $1 flight, Cocoa the drugged poodle, a half-naked man and a weekend journey to nowhere at the altar of American air travel.
By Joe Kovac Jr.
/ Originally published Oct. 14, 2010
T
he fighter pilot is radiant — flagpole sleek, a recruiting poster in boots, an American stud. He's decked out in his washed-ivy flight suit, lounging in a row of chairs that flank the arrival escalator between the north and south terminals. Unless he happens to catch your gaze, he blends into the Friday-night fray at Hartsfield, a supersonic man reduced to standing by.
He is waiting.
Which is pretty much what every other soul streaming into the world's busiest airport is doing or is about to do. In the modern jet age, before we step on a plane and, in a blur, get to where we are going, we hurry up and wait. We sit and stand and wander and eat and read and blab on our phones — "I'm at the airport" — and go next to nowhere for a fairly good while. And, if we choose, we have something we supposedly don't have much of anymore: time.
Time to look, to see, to watch.
Take the pilot. There is something about him that most passersby don't know. He is in love. There is a single rose at his side. He is waiting, not for a plane, but for ... someone.
Me, I'm here in search of curiosities, dialogues, sights more subtle than a flat-out handsome F-15 jet jock. I'm here for the shit you no longer notice, or never did.
I am here because the airport, Hartsfield-Jackson International, is the city's front porch. Still, a vast number of the 90 million or so travelers who visit each year never make it through the front door. They linger until their rides show up, having never so much as rung the bell. My plan is to invite myself into their world, to spend 48 hours hanging out on Georgia's most famous welcome mat.
Hartsfield's 1980s-era, ladder-style, midfield-concourse design turned 30 last month. Yet it seems somehow unaged, at once glossy and drab, pumped full of the "aura-sapping artificial lighting" that author Walter Kirn wrote of in his 2001 novel Up in the Air, whose frequent-flying main character becomes so fond of airport interiors that he deems them "familiar, sweet."
"I love the Compass Club lounges in the terminals. ... I love the restaurants and snack nooks near the gates, stacked to their heat lamps with whole wheat mini-pizzas and gourmet caramel rolls."
With more than pleasantries in mind, at 7:45 on a recent Friday evening, I head for the terminal curb. Off to the west, the jet-streaked sky has, on the second night of autumn, downloaded one of those afterburner sunsets that inject the opening night of a weekend with promise.
"Goodbyes" and "hellos" glide together in an unchoreographed NASCAR pit road of departure and arrival. The place is an open-to-all cavern of commerce, of get-you-in get-you-out engineering. Hartsfield is a warehouse of wherever-you're-headeds, with, if you're lucky, same-day shipping. To millions the world over, this colossus is Atlanta.
Inside, I make my way through the presecurity Atrium, scouting out sleeping spots. There's the floor above the Atrium in the main terminal's vaulted midsection, hard carpet outside the Interfaith Chapel.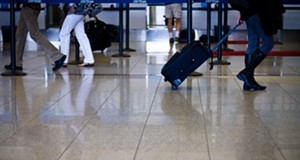 Tara-Lynne Pixley /
Creative Loafing
On the main level there are cushioned chairs.
I hear someone playing a grand piano. It's coming from a restaurant across the Atrium, just past an on-display Kia Sorrento. I order fish tacos and watch the Braves implode against the Nats on the widescreen over the bar. A patron who has just sat down wants to know if the beer mugs are frosted.
"Chilled, not frosted," the bartender says.
Another patron strolls up. "Is that all the rum you have?" He gestures to a couple of bottles on the wall. I notice that he is flying AirTran to Denver.
Meanwhile, chilled-mug man is drinking unfrosty Heineken. He picks up his cell phone. "I'm off the train," he tells someone who is apparently outside to pick him up, and then lies, "I'm still walking through."
The rum man is getting way into the skinny piano player, whose nickname is Bronco, as he tinkles out a number that sounds like a melody that would have been right at home on "Mister Rogers' Neighborhood."
"You've got an uncommonly good piano player," the rum man, well-sloshed upon arrival and now slamming Wild Turkey, says to the bartender. "Where's my little hand-held digital recorder when I need it? He's not blazingly technical but he's really creative."
I ask the bartender what it's like working in an airport. Her name is Kimber. Kimber the bartender.
"You got a couple of days?"
As a matter of fact, I do.
"On this side of security," she says, "anything goes. A guy came in here and tried to rob me two years ago. We were about to close and he came in with a gun. I had my hands up. I freaked."
Kimber tells of another joker she kept seeing in the terminal. Every day he'd cruise by with a different suitcase. "And clothes that did not fit him." She figures he was homeless, the baggage carousels his very own conveyor belt of new wardrobes.
A janitor named John pops in to catch the Braves score. It's 7-1, Nats. "You got to be kidding me," John says. He parks a wheeled garbage can and a broom cart by the entrance. He says he empties trash cans around the Atrium and security checkpoints.
"Found a claw hammer last night," he says. "I took it home. It still had the plastic on top, a brand-new hammer."
I scan the Atrium, its curves and accent lighting, its touches of upscale Vegas minus the slots, the marshmallow-white Sorrento on display showroom-style, the notion that the place is a jet-fume-infused Macy's.
Janitor John trudges toward security, into the late-hour dimness, garbage can in front, broom buggy in back, a tram of tidy, off to tuck the airport in.
But it isn't lights out by any stretch. Hartsfield is still humming on past 10 o'clock.
When you step off the arrival escalators, you have to turn left or right to get out. If you keep going straight, you walk into the restrooms. And I do, to find a half-naked man in blue underwear. He is changing clothes.
"Changing from one job to the next," he says, apparently not uncomfortable stripping down in front of strangers. He says he works evenings at a state prison, nights on bike patrol in the airport parking lots. "It's more courtesy than it is security," he says, shirtless, his pants splayed across the sink counter. "People don't always know which way to go."
Out in the lobby, the space reserved for those greeting travelers is clogged as they await late arrivals. Someone passing tells someone else, "I thought you'd never get here." One couple hoofs by arguing over where the car is. "We're parked over THERE."
I don't immediately notice the fighter pilot. I spot his friends. They are hiding around the corner with cameras. He knows they are there. The woman he is meeting does not. The pilot paces. Air Force Capt. Yuri Hines is nervous.
"He says he's not," his friend Andy Page says, "but he is."
Page and five others are pals of the young lady Hines can't wait to see. He and the woman, his girlfriend, whom he has dated for months after their friends introduced them via Skype, have a trans-Atlantic romance. She's in Oklahoma. He's stationed in England. She's Native American. Her name is Jade. Jade Prather. He's a University of Tennessee grad.
Their buds are on hand to record the reunion. Because not only will Hines hand her a flower, he will also ask for her hand. Tucked in a zippered pocket at the bottom of his flight suit's right pant leg is a diamond engagement ring.
A female security officer picks up on the buzz at the escalator's peak. As she passes she mentions, ho-hum, how the proposal will be the second one today. "Happens all the time."
Hines doesn't hear it. His eyes are on the escalator. Jade is on her way. "We're all waiting with you," says a stranger, himself waiting for someone but not about to miss this. A pilot popping the question in, of all places, an airport? Too rich.
A woman standing there asks Hines what color Jade's hair is, "Blonde or brunette?"
"Black," he says. "She's Native American."
Hines is anxious. He calls her. She's been off her plane a while.
"I'm looking for you," he says. "You're getting on a train now? OK. You didn't go the other way did you? As long as you're going toward baggage claim that's a good thing. OK, babe. Bye."
Hines tells a man beside him, another bystander hanging around for the fun, "I guess she was going the other way."
The man says, "It just adds to the story. She'll look back on it and say, 'All that time you were waiting.'"
A woman here to meet her two daughters from Georgetown University has already welcomed them home, but the three stick around. They want to watch.
Hines sees her, his girl, her flowing dark hair. His wait is over.
"Hiiiiiiiiiii," she says.
"I'm sorry I was two hours late," she says.
"It's OK," Hines says, "you're here now."
He gives her the rose and drops to a knee. Onlookers oooooh. Hines whips out the ring. Jade Prather covers her eyes. Then, with her fingers, she tucks her hair behind her ears as Hines asks her to be his wife.
"Absolutely," she says, and there is applause, there are hoots, from three dozen or so total strangers.
Then the two really kiss. Prather notices her friends, the sneaky devils there snapshooting and videoing the whole thing. Her hand trembles as her husband-to-be slides the ring onto her finger.
"I was just excited to see him," she gushes. "Of course, I'm now the happiest woman EV-ER. Oh my gosh."
It is 10:57 on a Friday night in an airport terminal, and Jade Prather is alight.
It's pushing midnight when a homeless man who says his name is Richard Carter flops down next to me in the Atrium. We're in those black-leatherish, pay-as-you-sit massage-o recliners: $5 for 15 minutes. This, I decide, is where I will try to sleep.
"I need $2.50 to get me something to eat," the homeless man says. "I haven't ate in one day."
He says he is fresh from Alabama state prison.
"Shake my hand," he says and I do. "You believe in God? I don't. You know, it's been a long time. I've had a lot of things going on in my life, so I know we can relate. You know where you been but you don't know where you're going."
I lie, tell him all I've got is credit cards, and he is on his way.
I notice two young women scoping out the Kia. It's not far from the 30-foot-tall meat-eating-dinosaur skeleton in front of Wendy's. One of them has her name, Dixie, stitched in pink on her handbag. She and her friend, Natalie, are from Cherokee County and they are here to retrieve Dixie's folks who are several hours late getting in from Vegas.
The terminal's drone has hushed. A dozen or so terminal dwellers have conked out, sprawled on chairs clutching blankets and huddled on small sofas. I mention my intentions to hang at the airport all weekend. Natalie, in her early 30s, says, "You will be bored out of your mind. During the day there's people watching. But at night?"
Half an hour later, I'm settled into the massage-o chair. Natalie and Dixie walk up. They've been roaming the now-desolate terminal and changed their minds about my weekend's prospects. Natalie is carrying a Zaxby's cup with ice in it.
Natalie: "There's lots of fun things to do. Like taking pictures of signs that have no meaning."
Dixie: "Signs that say 'Welcome Aboard' when you're not going anywhere."
Dixie: "At the Delta self-check-in there's nobody there so we went and weighed ourselves on the luggage scale. It's not accurate. It was close, like 2 pounds off."
Dixie: "And you can go sit in the chairs at the shoe-shine place."
Natalie: "They're comfortable if you're looking for somewhere good to sit."
Dixie: "Or you can look at the people sleeping with their mouths open and want to throw ice in them."
Natalie to Dixie: "Hey, there's your mom."
Dixie: "Nice talking to you. Enjoy your weekend."
The airport's town square has gone still. The dinosaur stands watch. In the distance you can hear the security recording on its eternal loop: "Liquids, gels and-or aerosols ... ." The Atrium clock tower, a four-sided glass focal point set beneath the vast hall's domed skylight, resembles one of those game-show booths where $100 bills fly around while contestants try to snag them. I take in the scene and the Atrium's calm. It is as if a Smithsonian corridor mated with a Lexus dealership.
After an hour of sleep, it is 3:55 a.m. A woman camping at the foot of the clock tower sits upright. She has earphones in and is grooving, sitting on her butt, slow-gyrating, mouthing words of a song, a lounge act that has outlasted last call.
"Are you laughing at me?" she asks, grinning at another overnight camper.
She explains her boogie. "It's Usher. He makes me moooove. A girl's gotta stay awake, ya know? I'm in it to win it. I'm stayin' up."
She sways. Across the way, near the piano at Houlihan's, a janitor feather-dusts the departure screens. A couple of workers riding floor buffers buzz the lobby, sorties strafing the insomniacs here on their nonstop red-eye to nowhere.
The clock tower reads 4:10 a.m.
I check my boarding pass: Spirit Airlines Flight 404, one-way service to Myrtle Beach, S.C., departing gate D-9 at 10:25 a.m.
I think how I am, for the first time in my life, six hours and 15 minutes early for a flight.
Concourse D rumbles to life to the unnatural hum of wheeled luggage.
By 7 a.m., planes are floating in from the east, the climbing sun at their tails. The Hartsfield control tower, an oft-overlooked spire that lords over the southside, stands sentry, an Olympic torch of concrete and glass. Sunrise behind it, as seen across the tarmac from Concourse D, is as holy a travel happening as, say, a window seat for a kid.
"Ohhhh!" an old lady headed to Minneapolis gushes. "LOOK at that SUN!"
It is a rare brush with nature in a hermetically sealed habitat.
Having spent the night cocooned in the terminal, perhaps I am overly moved by the scene. That or the fact that I am seeing it for the kick-ass low price of $19.70. A $1 Spirit Airlines fare plus $18.70 in fees seems worth the hassle of clearing security and gaining admission to a free-to-roam weekend tour of all the airport has to offer.
My flight to Myrtle Beach will leave without me, but I head to the gate anyway. The undertaking feels almost illegal, a security breach of, at very least, jaywalking proportions. Then again, I see no rules that say passengers must board their flights or exit the airport if they do not. It is a contingency the Transportation Security Administration has apparently not foreseen: A passenger who never becomes a passenger blowing a weekend roaming the Riviera between runways.
I'm at D-9 well ahead of the plane. I notice another guy who's over-early for the flight. He's in a shirt and tie and slacks, downing a Cinnabon roll, using his suitcase for a table. He eats with a plastic knife and fork. He is very neat. The breakfast stickiness never touches him or his way-too-nice-for-Saturday threads.
Nearby is a bearded man reading an Oprah-approved paperback by Carson McCullers. The gate agent from another airline is asking the attendants at ours, kidding, I think, "Do y'all have any Vicodin, anything good like that?" The counter clerk is announcing to the on-time Minnesota-bound passengers that "the general boarding process" will soon begin.
"The general boarding process?" I muse, and then to Mr. Cinnabon, "You gotta love airports."
"Man, you know, you can't live without 'em," he says. "But it's nerve-wracking sometimes."
In the row of seats by the check-in counter, Cocoa the white poodle stirs. She wants to go for a walk, and does, toward me. She pops over, slurps on my hand, and I pet her on the head before she skitters off.
"You ready for your medicine?" Cocoa's owner asks her.
I can't resist. "Medicine?"
"Yeah," the woman replies. "My vet just tells me to get her children's Benadryl, the little soft-melt tablets. That'll put her right to sleep."
A few minutes later, Cocoa's owner tucks her into a carrying cage, and, as the flight is "pre-boarding," leaves Cocoa at the gate. By the time she returns, the gate announcement comes that "all zones, seats and rows" are boarding.
The woman is carrying a squirt-top bottle of Evian. She takes a sip then lets Cocoa out to lick some before taking another drink herself. Ick. "That's all you get," she tells the pup, which by now looks half stoned but then refuses to go quietly back into the collapsible carry-all.
When the woman tries to zip it shut, Cocoa's head pops out, then her paws. Think of trying to stuff a ferret into an accordion. It's high comedy — if you're not already on the plane, waiting, wondering why you're still sitting there.
The next plane, the plane I have a ticket for, arrives at D-9. As my departure time comes and goes and I am not on board, I wonder if they'll call my name over the speakers. They do not. The plane edges back from the Jetway and crawls toward the runway. Four would-be passengers sprint to the desk.
"Jesus!" one of them says. But they are too late.
I watch the plane taxi south out over I-285. As it rises over the airport Sheraton and banks into a U-turn toward the coast, I feel left behind. Lonely.
In the bowels of the airport, underground trains whisk passengers through a more-than-mile-long tunnel.
This morning, the ride from Concourse E to Baggage Claim takes six and a half minutes. On foot, at a brisk pace and without setting foot on the moving sidewalks, the journey takes a little over three times that. I hike it. Twice.
There are photo murals at the stops: Atlanta scenes, landmarks, personalities. At the Concourse C depot, if you peek out the train window at the tunnel wall you can glimpse a close-up of perhaps the city's most famous "C" (aside from, say, Coke) — Chipper Jones.
Later, I sit down in the Concourse E food court. Two regional-jet pilots are eating lunch. One is 43, the other 35. They're airport connoisseurs.
"People will take the trains to these concourses, get off on the platforms and won't know where to go. They won't know to take the escalators up," the older pilot says, before adding, "There's nowhere to go but up."
"It's amazing," the younger one says. "People will stand there and say, 'I'm waiting for the train that's gonna take me to Baggage Claim.' And I'm thinking to myself, 'They all go to Baggage Claim.' What it comes down to, I guess, is that people suspend their sense of direction when they come to the airport. And you can tell occasional travelers from the professionals: the number of bags they have, the number of bags that they have without wheels."
Between chomps on an over-stuffed burrito, the 35-year-old says, "The airport's an interesting place. You get personalities you wouldn't get ordinarily. Otherwise sane, normal people don't act like themselves. People have a sense of self-importance when they're traveling. 'I'm going someplace, I'm special.' And they expect to be treated as such."
Before I go, I mention how I'm there observing. They tell me to be back around 11 the next morning. That's when an entourage of fashion-model-worthy Asian flight attendants make their entrance.
That, the younger pilot tells me, is a sight to behold.
I'm going on an hour's sleep. I fish a pillow from my suitcase and try to crash at an empty gate on Concourse D.
I shut my eyes for half an hour but there's too much bustle: The beep-beep-beep of those carts that ferry old folks to their flights; wafts of cinnamon pretzels, pizzas and pizza-flavored pretzels; the chatter of CNN's airport channel; the grandma in velour sweat pants gobbling yogurt; the Dayton, Ohio-bound woman with her who, when I finally stir, chirps, "Did you have a nice sleep?"
In the afternoon, I roam the concourses, A to E and back again. I check out the exhibit dedicated to the Rev. Martin Luther King Jr., the golden replica of his Nobel medal, the baseball bat his children swung.
I ask a concourse-buggy-golf-cart-beepy-thing driver if I can have a lift, you know, for giggles. I hop on. Then he says he has to verify my boarding pass. I hop off. My boarding pass expired hours ago.
I duck into Delta's Sky Club, where memberships, I'm told, run $500 a year, to which I remark before exiting, "Looks like I'm in the Ground Club."
I watch people board a plane for Beijing and some others head down to Panama City. Panama, not Florida. I ask the gate there if anyone ever confuses the two. No comprende.
I stare at the smokers in the smoking tank on Concourse B, its flight-awaiting inhabitants already in the clouds. A man breezing past says to himself, "Man, that's like the cancer room."
A woman emerges and coughs. Another steps out and hacks.
"It's the smoke vault," I say to a guy in a suit.
"The fucking gas chamber," he says. "Never seen any shit like it."
After dark, I hit Concourse E for the late international departures.
At E-1, London-bound passengers are informed their flight has been delayed till after midnight. Their Delta gate agent tries to soothe the English horde. This might be a good time, she says, if "you want to go and get you something to eat."
Some make for the food court, which features a self-playing piano, a mid-concourse bar, an upscale foodie palace called One Flew South, a T.G.I. Friday's and a Caribou Coffee, among others. The place glistens like an American Airlines fuselage.
A maintenance man near the bar is on his break. For some reason he has a blue rubber glove on his right hand and no glove on the left. He then becomes the second person today to gush over the Asian flight attendants, the ones from Korean Air.
"When you see our stewardesses it's all kinds, you know, all shapes. Not them," he says. "It's almost like their hair's the same length and the body types are the same, and ain't no ugly ones, either."
He says they wear soft-teal-and-cream-colored uniforms. Professional-looking, he says, "A jacket and a skirt that's right below the knees. They don't be showing a whole lot, but I tell you, it be tight. Tight. It looks good, too."
He says it's like a fashion show sashaying down the concourse. I envision something like that pilot-and-stewardess scene with Leonardo DiCaprio in Catch Me If You Can, where the Pan Am entourage all but glides through the airport, an apparition of cologne and cool.
"Whenever they come by," he says, "I stop what I'm doing and take in the show."
Then he recalls a scene a year or two back. Just across from Caribou Coffee, "an Army guy pulled his pants down and took a dump right there. Everybody saw it. Actually, I didn't see it come out. I saw him squat, but then I couldn't look. They say he was acting crazy, trying to get out of something."
I point to the shop behind him and say, "If he'd come down this way a little further he could've gone, um, Duty Free."
At a quarter to midnight, I am back on Concourse A, between A-11 and A-13.
The chairs there are cushiony and there are no armrests separating the seats. You can stretch out. I pull out my pillow and a flimsy blue fleece blanket. The concourse has, for the most part, emptied. I shut my eyes. I cover my head with a magazine. A segment on the CNN airport channel blares "Taps."
It's a little before 6 a.m. in a men's room on Concourse A and I'm washing my hair in the sink.
I've slept four or five hours. Hospital-patient sleep, a wink here, an hour there.
In the restroom, I pull out a bath towel, my shaving kit, deodorant. I'm in jeans and an undershirt. I hunch over the sink and begin coaxing splurts of auto-sensor water from the spigot and plooks of soap from the auto-dispenser. I lather my hair with hand soap just as the security announcement about reporting "any suspicious activity" comes on. I shadow box with the spigot, gradually divining enough water to rinse. I feel like a fugitive altering his appearance. A few men walk in. None of them pays me any attention.
After using the towel to dry my hair, I slip into a handicap stall and change into fresh clothes. Back at the sink I brush my teeth, and when I'm done, heading toward the north end of the concourse, I feel remarkably refreshed. The airport is just yawning to life.
At 6:42 on this Sunday morning, a lady at a credit-card-promoting booth is already in full come-on mode, a carnival barker minus the squirt-gun game.
"Hello, sir, come over and earn a free flight with Delta," she tells someone who ignores her. She resorts to the conversational-ambush tactic: "Hello, sir," she says to one guy, "what time is your flight today?" The guy, apparently thinking she may have some news about his trip, tells her 8 a.m. "Well you have time to come over and ... ." The guy waves her off. Still, amazingly, she smiles. She is in her 40s, frumpy, sad eyes. Even if hers is a corporate-generated grin, kind of sheepish with teeth together, it is a Sunday-morning affirmation that we are human.
I go up to the woman, whose name tag reads "Karen," and ask about her job.

"I just stand here all day and smile and talk to people," she says. "Some are nice and some are weird and some are nasty. Maybe I'll write a book one day, A Day in the Life at the Airport."
Then she pitches me.
Her: "Where you going today?"
Her: "So you're just hanging out in the airport all day?"
It started raining overnight and is still drizzling.
By 7:15 the foot traffic on Concourse A is well on its way to heavy volume, a drag strip in two directions.
I grab a $5 breakfast — a banana and some orange juice — and, after reading the morning paper at the gate for a flight to Salt Lake City, I walk out to Concourse E to see the flight-attendant fashion show.
I'm early by a couple of hours. I lounge at the Korean Air departure gate then blow some time down at the food court. I spot the honeymooners. They're groggy. I overhear the man tell the person behind the counter at Caribou Coffee that they just got married. He has on a Falcons cap. I say, "Big game today, eh?" The Birds are playing at New Orleans this afternoon.
The guy isn't feeling it. "I'll find out what happened a week from today when we get back," he says. He and his bride are Jamaica-bound. He seems either wedding-night hungover or supremely whipped. What guy worth his Falcons hat can resist a "go team" encounter even if it is the first morning of married life?
Then I notice what is printed in small white letters across the front of his black T-shirt: "I Love My Wife." I also notice his wife's brown T-shirt with pink letters spelling out, "I Love My Husband."
I take a seat and await the march of the stewardesses.
The fuss has been over nothing.
Yes, the Korean Air pixies do arrive in dapper outfits, in sky-meets-mountain-lake-blue. They could pass for the marching-band flag corps of a private high school. But they aren't strutting in formation or turning heads or in any way defying gravity on their amble down the airport corridor.
They are, however, wisps of women who look born to navigate the aisles of aircraft cabins. Just with less fanfare than, say, a gymnastics team. They don't so much as waltz to their gate.
A worker at the restaurant One Flew South, a woman, sees them go by and says, "They alllll look the same. They all be having the little bows on and all be looking the same. Same waist and all."
I follow them to their gate. I'm hoping to ask a couple of them a question or two, see if they'll gather for a group snapshot. A man is with them. He looks to be an assistant of some kind. I ask him. He goes over and several of them give me that universal flight-attendant glare, as if I'd just airmailed a commuter fart from coach to first class.
It is early afternoon. Rain still. Out the windows with no way to step into it, the wet weather becomes something of a museum piece. Something to look at, not touch.
Back on Concourse A, I'm at my sleeping spot watching the Falcons and Saints. Departure delays mount. A couple of Delta flight attendants sitting near me are waiting for their puddle-jump to Birmingham. They're out of Detroit. I tell them about my weekend, about my Korean Air run-in.
"Aren't they beautiful?" one of the Delta women says. "It's a really prestigious job over there. I had a friend who went through the training. They had, like, a month of facial-grooming courses as far as what moisturizers, what makeup they used, their hair. They're trained a whole lot different than we are. But it shows. They pick beautiful girls and they train them to look beautiful."
A bit later, I chat with a trio of Cleveland-based male flight attendants. They, too, are delayed. I ask which airline's attendants are the biggest divas? "You mean the bitchiest?" one says, but he doesn't answer.
I ask him how Hartsfield rates. He adores the food courts, hates the layout. "It's the most stressful of all the hubs," he says. "To me, it's like being at the mall two days before Christmas."
At a BlackBerry store across the hall, a saleswoman says the airport scene is a little like a state-fair midway. She once saw an enraged man flip his lid, bolting back and forth down the concourse. She was working one day when an old lady died in a nearby women's room.
"I don't use that stall anymore — creepy," she says. "Her brother was outside waiting for her and she never came out."
My waiting is about to end.
Just after 7 p.m., I take the train to baggage claim, ride the mine-shaft-chute of an escalator up to the arrival lobby and escape the travel terrarium.
I walk straight into the waiting arms of a love story of Olympic proportions. He's from Atlanta, she's from Barcelona.
His family, the Neelys, is there to welcome her to the states. They are clutching a paper banner with "Atlanta Loves Carmen!!" painted on it.
Sunny Neely has just flown home with his new wife. They married in Spain in April. An immigration snafu has kept her from getting to the U.S. He's been living here, visiting her nine or 10 times in Europe. Finally, her visa has come through.
"There they are!" someone hollers as Sunny and Carmen top the escalator.
Sunny's dad slips a gold medal his son received for running a marathon around her neck.
"The most patient woman in Spain," Carmen's father-in-law says. "This is a great ending."
Sunny tells me that Carmen couldn't get her visa "because her name is similar to another Carmen Gonzalez who has a criminal record."
Sunny had flown to Spain to get her Friday night. His plane left about the same time I'd arrived.
Now their American honeymoon was under way.
Before we go our separate ways and make for Atlanta's front doors, Carmen sighs.
Me, I've been in an airport 48 hours.
Her life has been on hold half a year.
"I have," she says, "been waiting too much."